Parkland Trojan Alumni Varsity Club

Welcome to the Parkland Trojan Alumni Varsity Club Website
TROJAN ALUMNI VARSITY CLUB
BOX 51, OREFIELD, PA 18069
FOUNDED 1951
OFFICERS AND BOARD MEMBERS
PRES. RON BEALER THREE YEAR TERM TWO YEAR TERM ONE YEAR TERM
1ST. VICE PRES. HENRY KUNKEL RICK TRUMBAUER FRANK MODRICK BOB EVERETT
2ND. VICE PRES. TOM GEORGE AL MARSTELLER KEITH WILLIAMS LARRY BERNHARD
SEC. CHARLENE MILLER MARV BORTZ ROBERT BANZHOFF ELMER HEINEY
TRES. JEFF GRIM DALE SNYDER SAM RAUB DENNIS REISS
---
Pictures from the 8/18/17 golf tournament have been added to the "Club Photo Gallery"
Pictures from the 8/1/17 Meeting with the football team have been added to the "Club Photo Gallery"
The 2017 Golf Tournament was held August 18, 2017 but unfortunately the golfers were not able to golf due to a rainstorm the night before which flooded the golf course!
The golfers showed up and registered and each golfer was given a pass for a free round of golf at Iron Lakes at a later date. The participants were invited to return for lunch and raffle drawing at 11AM. The luncheon was a success with many golfers returning. Raffle prizes were awarded, lunch was delicious and beer was flowing -- so not a total loss and the club still maintained a profit for the scholarship fund!
Thanks to all our sponsors and contributors and all who turned out to support us!
Thank you to all the volunteers that helped us get through the day!__________________________________
CLUB MEETINGS
NEXT MEETING
All meetings will now be held the first Tuesday of the each month
Note new membership fee schedule:
First 5 years after graduation...................FREE
Regular Member Annual Dues................$12
Lifetime member Age 65-69.....................$75
Lifetime member Age 70-74.....................$60
Lifetime member Age 75 or older.............$50
---
2017 Scholarship recipients
Ryan Giovenco - will be attending Haverford College to major in biology - Ryan lettered in Baseball
Deziray Hechler - will be attending Bloomsburg University to major in American Sign Language - she lettered in cheerleading and track
---
Upcoming Dine and Donate Dates
Dine and Donate Event will be held October 11, 2017
PJ Whelihans Broadway
Allentown PA
Come anytime -- PJ's will donate 15% of the check for all food and beverages the entire day and evening
Dine in or take-out.
You only need to tell the server you are with the Parkland Varsity Alumni Club
Bring family and friends -- it is a great way to support the club and have some great food at the same time!
---
---
JOIN THE CLUB!​
The club is always looking for new members! Any Parkland graduate who played a sport in high school is welcomed and encouraged to join. Associate members are also welcomed. The club's goal is to support Parkland Athletics, provide scholarships for athletes, and to create a group for alumni to reconnect.

Our meetings are very relaxed and social and include food and drinks.
Check out our mission statement, grab a few old friends, look at the membership application (link located on bottom of page) and join today!
Interested members are always welcomed to attend a meeting to learn more!
---
Parkland is now one of only seven PIAA schools in the last 12 years to win three team state championships in one school year.
Congratulations to Girls' Volleyball, Boys' Volleyball, & Softball on the impressive feat.
---
SEE NEWSLETTER FOR ALL OTHER UPDATES & EVENTS
Meeting minutes can be found on the "Newsletter" page on the website...... Click link on the left.
---
MISSION STATEMENT:
The Parkland Trojan Alumni Varsity Club is an organization formed for the purpose of promoting and encouraging participation in and support of extracurricular athletic activities for boys and girls in the Parkland School District. The Parkland Trojan Alumni Varsity Club establishes and provides educational scholarships for student athletes, advances the social and physical improvements of all students, provides support for various school-related activities and promotes camaraderie for all Parkland School District athletes and friends.

CLUB'S MEMORIAL AT PARKLAND HIGH SCHOOL: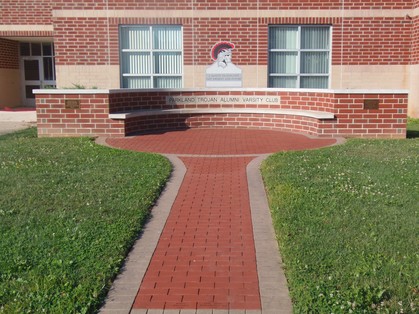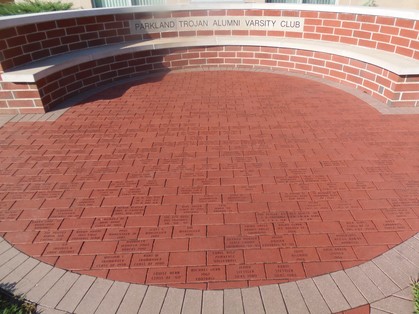 Personalized Memorial Bricks are available for purchase and installation at this memorial and may be ordered through the club. See order form below. New bricks are installed once a year during a none school month. The club will automatically install a brick for any team who wins a state championship.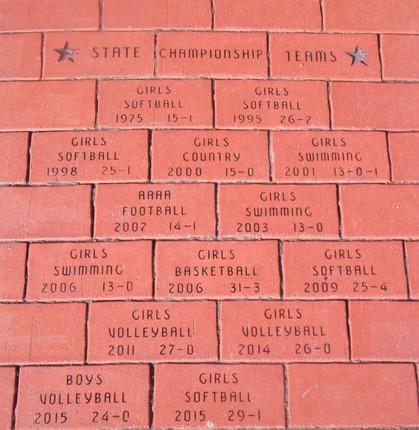 FORMS AND DOWNLOADS:
Club Membership Application Form
---
Links for Members:
Club Facebook Page:
https://www.facebook.com/pages/Trojan-Alumni-Varsity-Club/695867550491920?ref=hl
Parkland's Teams' Schedules:
http://schedules.schedulestar.com/Parkland-High-School-Allentown-PA/day/10-01-2014/
Parkland School District's Alumni Page:
http://www.parklandsd.org/community/alumni/
Parkland Sport History and Records:
http://www.parklandsportshistory.com/
---
Thank You:
Thanks to Hannah Antonacci, Administrative Assistant to the Club Secretary, for preparing the Newsletter and Club Meeting Minutes. Good luck to her in her college career!
Lucy Ritter Thanks For Handling Hard Copy Newsletter Mailings!
Thanks To Carl Gillikin & Others For Pictures
Thanks To Hank Kunkel & Dennis Reiss For Website Help

For The Officers, Board & Club Members,
President Ron Bealer